Benefit From HVAC Rebates & Special Offers
Investing in a new heating and cooling system can be a big expense, but you can reduce the cost when you work with the right HVAC expert. Albert Air Inc. is the name to call. Aside from delivering exceptional HVAC installation services, we also can help you qualify for great rebates.
Southern California Gas Company Rebates. Getting a new gas furnace for your home? The Gas Company offers a $150 to $200 rebate on ENERGY STAR®-qualified natural gas furnaces. To qualify for the $150 rebate, a furnace must have an Annual Fuel Utilization Efficiency (AFUE) of 92-94%, while a minimum AFUE of 95% is required for the $200 rebate.
Thermostat Rebate. Albert Air Inc. also has special offers on our Honeywell Wi-Fi programmable thermostats. When you enroll today, you can earn up to $125 in bill credits, plus $60 more when you participate in peak energy events.
Carrier Cool Cash. up to $1,650 or 72 month special financing on approved credit on qualifying Carrier Systems between March 15, 2021 and June 30, 2021.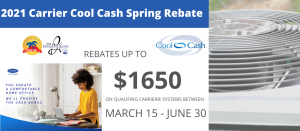 Schedule a FREE Estimate Today!
Albert Air Inc. can help pave the way to a more comfortable and energy-efficient home with our top-tier HVAC solutions. Get started on your project and qualify for rebates by calling us today at (714) 526-6368. You can also submit our online contact form.