Indoor Air Quality
Indoor air quality: is it really needed?
You have probably heard about indoor air quality and about air being polluted in homes — but not your home right? Well, you might need to think about that. Your home is like a big container, built to be energy efficient to save on energy costs. This efficient construction traps contaminants inside, only to be recycled into every room of your home via your heating and air conditioning system.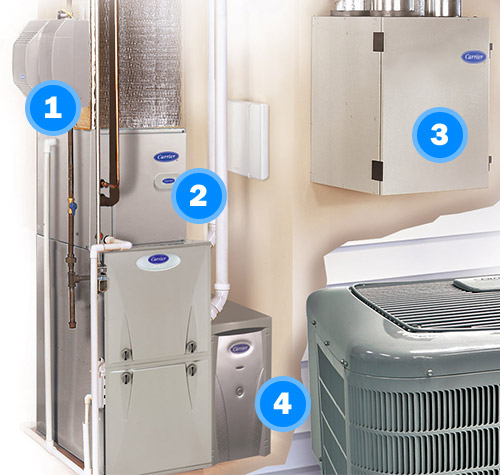 What types of contaminants could really matter in your home though? Quite a few actually. Mold, the flu virus, chemicals from cleaners, paint and wood treatment, bacteria, allergens, pet dander…and more. The good news is that indoor air quality (IAQ) products can transform the air quality in your home by filtering, protecting and refreshing indoor air.
An Important Fact To Remember:
IAQ products are not mutually exclusive. A UV lamp serves a distinct purpose, and cannot perform the job of a ventilator. You don't have to implement them all to reap benefits, but talk to your HVAC dealer so they can recommend the best options. Read more about each product below to learn a little more about their role in making a healthier home.
Read the brief product descriptions below to start learning about how these products work, and the purpose each serves. Together they offer a complete solution that will make your home a healthier and more comfortable place to live.
Whole House Humidifier
Ever wish you could have moisture restored to your indoor air to help with itchy skin and other discomforts that are associated with dry air, especially in the winter season? A whole house humidifier is the answer. They integrate into your HVAC system, and replenish needed moisture into your home that not only increases comfort, but helps protect wood, furniture, and instruments.
UV Lamp
Many do not understand the purpose of a UV lamp for an air conditioning system. A UV lamp has one job to do — kill mold in the indoor coil. The indoor coil (also called an evaporator) contains tubes of frigid refrigerant that warm air from the home is forced through. When this happens, moisture condensates on the pipes, creating a breeding ground for mold in the coil. Mold can get into the air, and decrease efficiency.
Ventilator
A ventilator is a piece of art. It is like having the ability to open the window to let fresh air in without a huge hit on your energy bill. A ventilator exchanges stale indoor air for fresh air outside, while recovering energy used to heat or cool the air during the exchange. An Energy Recovery Ventilator (ERV) is for the cooling season while a Heat Recovery Ventilator (HRV) is for the heating season.
Electronic Air Cleaner
The Carrier® Infinity air purifier, or advanced air filter has an efficiency rating of MERV 15 which measures the ability of an air filter to remove particles from 3 to 10 microns in size. What does that mean in english? It means these can filter out even viruses and bacteria from your air. The air cleaner sits before the furnace intake, and filters all air coming from the home.
Air Balancing and Air Diagnostics
What is Air Balancing and Air Diagnostics?
If you are concerned about the efficiency or comfort provided by your heating and air conditioning system or if you are about to make a major purchase of a new heating or air conditioning system than you should learn about what air diagnostics and balancing can do for your home.
In its simplest form, air diagnostics and balancing is the process of testing and adjusting your air conditioning system to deliver the right amount of air to each room in your home. The actual Air Balancing process includes a number of related tests that determine the performance of your air conditioning and heating system.
Air balancing hoods are used to measure the amount of air at each grille. Manometers measure system pressures. Hygrometers measure system temperature and humidity. The results of all these tests are compiled into a report to determine how well your system is functioning.
What Air Diagnostics & Balancing Can Do For Your System
It's not uncommon to find a system 30% to 50% low on airflow. Air passes through the equipment and carries the heating or cooling inside. The effectiveness of the equipment is entirely dependent on the amount of airflow. When your certified technician measures the airflow he can "see" system performance.
With this information he can diagnose, repair and balance the duct system for maximum system performance. The end result is having rooms that are the same temperature, cleaner air, better humidity control and real energy savings.
Why This Service Is So Special
Air balancing is an ancient trade dating back to 1732 when a French Engineer named Henri Pitot created a method for measuring fluid pressure. Even though air balancing is critical to the performance of your air conditioning and heating system, less than 5000 individuals in the world are trained and certified in air balancing today. Albert Air employs Certified Air Balancing Technicians.
Who can Do Air Diagnostics and Balancing?
Your heating and cooling system is a candidate for improvement. A contractor with the right tools and training can improve the performance of virtually any system. The more accessible your ductwork is, the easier it is to perform balancing and duct renovation work.
NCI Certified technicians are different than standard HVAC technicians. Most companies are in business to just fix or replace heating and cooling equipment. Your certified Air Balancing Technician considers the entire system and is qualified to test, diagnose, and repair your ducts as well as your equipment.
Don't be fooled into thinking that replacing your furnace or air conditioner is the only way to lower your utility bills. Those big boxes that heat and cool are reliant upon the distribution system that delivers cold or warm air to each room. If a contractor doesn't check them then they are only addressing part of the puzzle. Compare it to installing a brand-new race car engine on an old beat up sedan.
A heating contractor with diagnostic experience should always check the Static Pressure of your system whenever repairing or planning to replace your heating and/or cooling equipment. A familiar comparison is when you go to your doctor; someone always checks your blood pressure. Like blood pressure, Static Pressure is one of the key vital signs of your comfort system.
This test helps your contractor identify any significant blockage or leakage. With this initial testing along with an in-depth interview, your contractor can recommend the appropriate diagnostic tests followed by recommendations to correct existing issues and optimize your home's comfort and energy efficiency.
Air balancing means measuring and adjusting the volume of airflow into each room. By doing this, every room in your home will be as comfortable as possible with the equipment you have on hand.
Air Balancing Experts
National Comfort Institute trains heating and air conditioning contractors to test systems just like yours to determine existing efficiency and delivered comfortable air. NCI also trains contractors how contractors can pinpoint troubles in your system and fix these problems. We are an NCI certified contractor.
Breathe Easy With Albert Air Inc.
As an HVAC professional, your comfort and health are important to us. We know that staying indoors doesn't always guarantee you're breathing clean, so we're here to make sure that you enjoy incredible indoor air quality, whether in your home or business. We have been in business for more than 35 years so you can count on us to have the expertise necessary to not just providing you with the right indoor air quality products but ensuring as well that all installation work is done expertly. To learn more about what we can do for you, just give Albert Air Inc. a call at (714) 526-6368.