Reliable Commercial HVAC Installation, Maintenance & More
A business owner's heating and cooling needs differ from those of a homeowner. Additionally, commercial HVAC system breakdown is generally costlier to remedy. This is why business owners need to work with an HVAC company that is experienced and equipped to service commercial HVAC systems.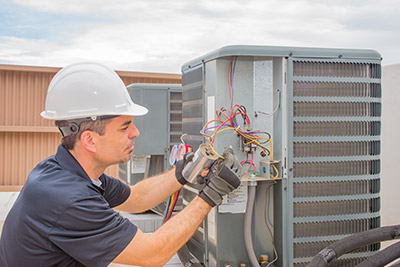 When you need reliable commercial HVAC installation and maintenance services, look no further. With a team of NATE-certified technicians, Albert Air Inc. is here to provide the best possible HVAC services to Southern California businesses.
Commercial HVAC Done Right
Making sure that your business has reliable heating and cooling systems ensures that you, your customers and your tenants enjoy a comfortable and healthy indoor environment. A properly designed, installed and maintained system also helps ensure that you can keep your HVAC-related costs to a minimum.
Choosing just any contractor to install, maintain and repair your HVAC systems can lead to more expensive problems. At Albert Air Inc., we make sure that your unique commercial HVAC needs are met. You can count on our expertise for the following HVAC services:
As a Carrier® Factory Authorized Dealer, Albert Air Inc. is able to install and service HVAC systems with high quality and precision. With our products and services, we can make your commercial building comfortable and energy-efficient at the same time.
Get a FREE Commercial HVAC Installation &Service Estimate Today
Whether you need HVAC maintenance or installation, Albert Air Inc. has you covered. With your comfort as our priority, you can expect a worry-free HVAC service experience. Get in touch with us today by calling (714) 526-6368 or submitting our online contact form to schedule a consultation and get a free estimate.