We Are Carrier Experts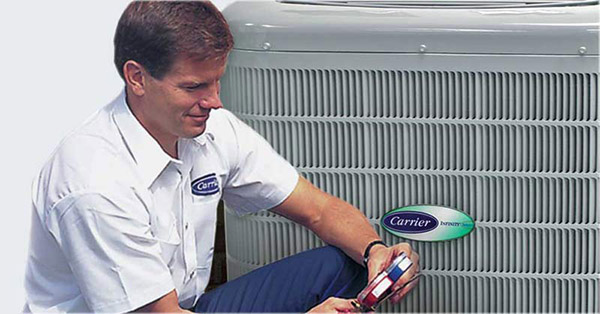 Knowledge. Confidence. Comfort. A lot can come from a short meeting.
The way we see it, you're the world's leading expert in what you want from a heating and cooling system. Our expertise is simply making it happen. Whether you're after home comfort or air quality? or both? we'd be happy to recommend solutions that meet your unique needs and your budget. Now, and in the long run.
Talk your way out of high energy bills.
To ensure your local Carrier® expert recommends the products that make the most sense for your house, your lifestyle and any special needs for your family, be sure to let your expert know what matters most to you. Not sure? Consider these questions:
Has your home been warm enough in the winter lately? Cool enough during summer?
How long do you intend to keep your house? Do you see yourself enjoying your system for years, or are you upgrading your system to increase the resale value of your home?
Have you considered investing more money in your equipment now to save money in long-term energy costs? Or are you looking to save on your up-front equipment costs?
How important is total comfort to you? Today's furnaces and air conditioners can do so much more for you than heat and cool.
Do you want the ability to create different temperatures in different rooms throughout your home. If so, how many?
How important is air quality to you? Does anyone at home suffer from asthma, allergies or dry skin? Do you have pets in your home?
Are you concerned about the environment?
Want to get a recommendation even before setting a meeting? Take a moment to explore our heating and air conditioning products
Learn the basics of heating and cooling.
If you don't know a heat pump from an evaporator coil, we assure you, you're not alone. Here are a few questions to ask your expert that will get you up to speed in no time:
What makes a heat pump or air conditioner quieter or able to create better comfort?
How closely can I manage my home comfort if I have an Infinity® control?
Which system combination is best for where I live?
Does a Hybrid Heat® dual fuel system make sense for me? What about geothermal technology?
How could I benefit from indoor air quality solutions?
Done. Right. Guaranteed.
Three powerful words that define what it means to be recognized as a Carrier® Factory Authorized Dealer – and what you should expect from your experience as one of their customers.
Done.
Carrier Factory Authorized Dealers have earned their distinction – it's not "given" to them. And it's not about what they are, but what they've done and continue to do: they go to work and get the job done.
Expertly.
Factory Authorized Dealers must perform to rigorous national standards consistently and continually in order to qualify for factory endorsement. Additionally, they participate in extensive factory training on technical aspects of equipment installation, maintenance, and repair.
Efficiently.
Factory Authorized Dealers send their sales representatives to Carrier University. Here, they learn to efficiently identify and recommend solutions that provide excellent comfort and value specific to your needs, while incorporating Carrier products that are energy efficient, reliable, quiet, and environmentally sound.
Professionally.
Factory Authorized Dealers adhere to a long list of sound business practices, such as maintaining all required local licenses, having appropriate insurance and liability coverage, and fulfilling warranty obligations in a timely manner.
Right.
Carrier Factory Authorized Dealers take pride in doing the job right…and it's this performance that we recognize. At Carrier Corporation, we know that how you ultimately feel (in your home and about the Carrier brand equipment) has a lot to do with the dealer's performance. That's why we evaluate not only how well they can take care of your home comfort system, but also how well they take care of you as a customer. You'll benefit from work that is done…
Right technically.
Factory Authorized Dealers employ NATE certified technicians who have passed a stringent set of core and specialty exams to ensure their technical competency. They also receive ongoing training specific to Carrier technology and products.
With the right parts.
Strictly adhering to Carrier installation and service procedures, they use genuine Carrier Factory Authorized parts whenever possible to ensure that your system performs as promised, preserving its original efficiency and sound levels.
Right for the environment.
Factory Authorized Dealers are also certified by the Environmental Protection Agency for proper refrigerant handling.
Right by you.
Committed to the utmost in integrity and professional service, Carrier Factory Authorized Dealers actively solicit and respond to customer feedback to maintain an exemplary satisfaction score in a Carrier-approved customer satisfaction program.
Guaranteed.
Your Carrier Factory Authorized Dealer has met Carrier's rigid criteria and close scrutiny for the quality of their products, knowledge and service. We are so confident that you will be comfortable – not only with your Carrier heating and cooling products, but with your Carrier Factory Authorized Dealer – that we back it up in writing with a 100% satisfaction guarantee: If, for any reason, you are dissatisfied with your Carrier equipment within one year of the installation date, your Carrier Factory Authorized dealer will correct the problem or remove the equipment and refund your purchase price. Ask your Dealer for a copy of the guarantee for details and limitations.
The fact that you're either already working with – or considering working with – a Carrier Factory Authorized Dealer says that you demand superior quality and you expect excellent service. Period. Well, you're in the right place, because so do we. Carrier Factory Authorized Dealers: Done. Right. Guaranteed.
Don't let your energy dollars slip through the cracks.
Ever find yourself reaching for a sweater even when the heat is cranked? Or sweating your AC's inability to keep the August heat outside? Unfortunately, the problem could hide anywhere, from insulation to a drafty door? Or even an inefficient heating and cooling system.
Some conversations are nothing but hot air. This one involves cold air, too.
If you feel you're paying too much for your utility bills, it's time to talk to your local Carrier® Energy Expert. Unlike other energy auditing companies, our knowledge goes far deeper than insulation and windows. We know the ins and outs of your air conditioner, furnace and ductwork as well. In fact, we know everything about whole-home performance, from your floorboards to your roof shingles, and every square inch in between. The extensive high-level training our Carrier Energy Experts receive enables them to provide a Carrier 360° evaluation on your home. Using state-of-the-art home performance technology, they can ultimately help your home feel more comfortable, lower your energy bills and even improve your air quality.
Let's clear the air.
You take about 24,000 breaths every day. So it only makes sense to spend a minute or two thinking about what you're actually breathing. After all, allergens, pollution, mold, bacteria, cleaning chemicals, smoke and more all hurt the quality of your air. But go on and take a deep breath: Our Carrier® air quality experts are here to help.
These guys live, sleep and breathe air quality.
And to make sure you breathe easier as well, they've mastered the complete line of Carrier healthy home solutions. Just as important, they know how to evaluate your home to make sure you choose the right air quality products. And of course, they will make sure everything is properly installed. So when you use our locator to choose a Carrier expert, be sure to look for the Carrier Healthy Air Expert designation. It means he or she is a bona fide guru on a wide variety of indoor air quality topics including:
Types of indoor air quality problems
Identifying the right solution for each type of problem
Limitations of portable/room purification devices
Principles of air filtration
Industry standards for filtration and ventilation
Indoor air quality technologies
The Carrier collection of IAQ products
Did your family have a tough flu season this year?
If so, be sure to ask your Carrier expert about our Infinity® air purifier. Its patented technology is uniquely designed to efficiently capture a variety of microscopic airborne particles – and actively kills airborne germs like bacteria, molds and viruses, including the viruses that likely caused the flu and colds you just went through. No other whole home air cleaning product on the market today matches the germicidal capability of our Infinity air purifier.
Recognizing Carrier dealers who exemplify leadership and management, customer satisfaction, expertise, business growth and operational excellence.
The President's Award, started in 2007, is Carrier's highest honor for its dealers. This annual award is designed to encourage self-analysis and reward individuals who have excelled in customer relations. Its goal is to support business improvements and show gratitude for their customer loyalty. This award presents the opportunity for recipients to serve as role models, share "best practices" and otherwise offer peer mentoring to help cultivate excellence across the dealer group. Carrier Factory Authorized Dealers who have earned this distinction in previous years will be recognized as a Past President's Award winner on the Carrier Dealer Locator. President's Award recipients are businesses that far exceed high expectations, not only as a Carrier dealer, but also as one of our Carrier Factory Authorized Dealers – who are held to an even more exacting set of standards. A President's Award winner is a company that we at Carrier Corporation recognize and hold up to other dealers as an example of true excellence. It is an enterprise whose leadership, integrity and performance we hope all dealers will aspire to emulate.
Putting You First
For President's Award Dealers, it's your satisfaction – not just a sale – that counts. That's why they strive to provide personal follow-up and quick, knowledgeable solutions to your home comfort problems. They also keep ahead of the industry with specialized training. All of this makes a big difference when you have to make big decisions about your home comfort.